Pantry donations are helpful!
* Canned Meat
* Cooking Oil
* Canned Soup
* Canned Tuna
* Canned Chili
* Tea Bags
* Rice
* Peanut Butter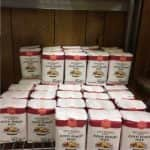 * Deodorant
* Bar Soap
* Feminine Products
* Small-size diapers
* Shampoo

* Conditioner
* Laundry Detergent
* Dish Soap
Canned Fruits – in own juices or light syrup. Pineapples, peaches and pears.
Canned Low Sodium/No Salt Vegetables – mixed, green beans and corn.
Canned Soups – beef stew, chili, chicken noodle and turkey rice.
Multigrain Cereal – Cheerios, cornflakes, Grapenuts and Raisin Bran.
Grains – 1lb. bags only. Pasta, whole wheat pasta, rice, mac and cheese.
100% Fruit Juices – all sizes, including juice boxes.
Condiments – tomato sauces, light soy sauce, ketchup, mustard and light salad dressings.
Please make sure all donations are within the expiration date and the cans are not damaged.
FOUR PAWS FOOD PANTRY
Good Samaritan is a distribution location for Four Paws Food Pantry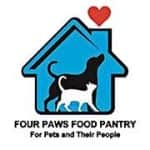 KEEP THE SHELVES FULL ….
             A SPECIAL THANKS TO
MAJOR SPONSORS
                           Good Samaritan Center of Loudon County                                  A 501(c)3 Non-Profit
Donations are Tax deductible